Ranger, mother, and passionate conservationist, Anety Milimo talks candidly about work in Zambia's Kafue National Park
"If you aren't clever, brave and lucky, you can be in a lot of trouble. Poachers don't joke. They say they'll kill you and they mean it." As Anety Milimo speaks outside the faded turquoise walls of her home near Zambia's Kafue National Park, she's holding baby Erica—just a few weeks old—close to her chest. The little one only wants mama; "I can't put her down," laughs Anety, who is also raising her other daughter (6) and her three orphaned nieces.

"With Erica, I worked up until the last day; until I went into labor. I just have a passion for wildlife. I feel like I'm missing out on a lot when I'm not out there," she explains, gesturing towards the vast expanse of Kafue wilderness—equal in size to the state of Massachusetts—that it is her job to help protect.
Nearby, tiny baby clothes dry on a washing line and a troupe of vervet monkeys chatter from the rooftop, hoping to steal some of the food that's being prepared for the evening meal. Monkeys are the least of Anety's worries though, because there are elephants and armed poachers around too.
Anety is one of 16 women recruited in 2004 by Zambia's Department of National Parks and Wildlife (DNPW) to undergo intensive training to become a ranger (known locally as a wildlife police officer). It's more common to see women recruits now than it was 15 years ago, but they are still few and far between as the vast majority of rangers are still men.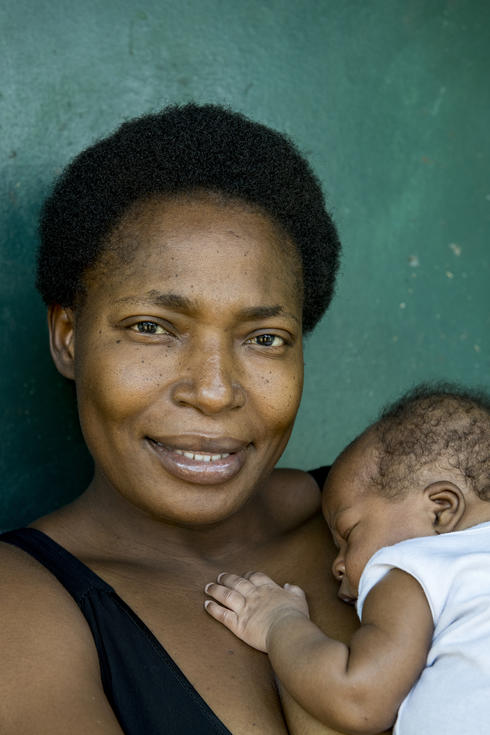 As Anety shifts her baby from hip to hip—she wants to stand but the wound from her caesarean section still hurts a bit—she casually talks about confronting poachers and her lucky escapes from these criminals and wildlife like elephants and buffalos.

She didn't quit when she was almost killed by poachers, or when a colleague was murdered, or when an elephant tried to crush and bury her in her tent, or even when she had her first child six years ago. The baby's father died in 2014, leaving her a single mom, but she continued with her career when her eldest daughter was just 8 months old, returning to the field to patrol and protect the park. "Soon, it will be time to leave Erica too," she says.
Anety knew from her very first patrol that her job would be difficult and dangerous. After that first patrol, she cried and called her mom, who wanted her to come home.
"But I don't just give up like that. I did that training so that I could be able to face this reality," she says. She's still spurred on by the people who think she will fail despite having 15 years of experience tackling wildlife crime in Zambia's largest national park.
Rangers here operate mainly on foot, with limited ways to communicate in the field. The road network is sparse, the terrain and weather can be extreme, there are snakes, lions, leopards, and other dangerous wildlife, not to mention the ever-present poachers, who are well organized and armed.
Though park data indicate the poaching situation is improving, the area is still targeted by poaching syndicates involved in the illegal wildlife trade. In 2018, new WWF-supported thermal imaging cameras were strategically placed around the park's vulnerable eastern boundary. This was a big step forward for the park's security and the safety of people and wildlife, alerting rangers to the presence of poachers and helping them patrol more safely.
Once her maternity leave is over, Anety will take on a new role collecting wildlife data for the park's research department. "Although I'm sure I'll be back on patrol when they need me," she is quick to add.
While most male rangers are asked about their work, not their family, Anety doesn't mind talking about motherhood, because balancing her commitments is hard, especially since her husband and Erica's dad, works in another town. "I can't speak on behalf of other women. Most don't go out into the field, but we can do the job. Where there are men, I have proved I can do the same as them. I have never surrendered, and I never will," she says with a calm smile. Then, it's time to take baby Erica inside for a feed.
Enviroshop is maintained by dedicated NetSys Interactive Inc. owners & employees who generously contribute their time to maintenance & editing, web design, custom programming, & website hosting for Enviroshop.