The urgency for companies to accelerate the transition to electric vehicles is underscored as demand for e-commerce, and with it last-mile deliveries, soars. The result: more fossil-fuel based trucks on the road that contribute to greenhouse gas emissions worsening air pollution.
Companies are setting ambitious climate goals, and zero-emissions shipping will be critical for hitting these targets. But, currently, there remain significant barriers to the ability of companies to meet clean shipping goals.
Until now, companies have not been able to secure zero-emissions shipping when they don't own or operate their own vehicles.
Accelerating Zero-Emissions Delivery: An innovative approach to transforming the last mile introduces a new financing model for Zero Emissions Delivery Zone (ZED Zone) that can accelerate commercial vehicle electrification and enable companies to hit their clean shipping goals.
Further, the model can unlock substantial financial, social and environmental returns for forward-thinking investors. For example, the report finds that by sponsoring just 15 zero-emissions delivery vehicles, companies can create $1 million of health benefits from reduced air pollution.
How does a ZED Zone model work?
Through a ZED Zone financing model, inspired by Virtual Power Purchase Agreements, companies, or "shippers", sponsor a group of Zero-Emissions Vehicles (ZEVs) through payment plans and utilization guarantees. Private and public financiers then provide the capital needed to purchase zero-emissions vehicles. Carriers add ZEVs to their fleets based on the confirmed demand, enabling shippers to procure cleaner shipping options.
It could take three forms:
Sponsorship: Shippers pre-pay for shipping and receive monthly discounts on a long-term contract.
Guaranteed Monthly Minimum: Shippers sign a long-term contract with one carrier at a minimum monthly spend.
Shared Rental: Shippers sign a long-term contract with an EV manager guaranteeing vehicle use and requiring carriers to rent ZEVs from the EV manager.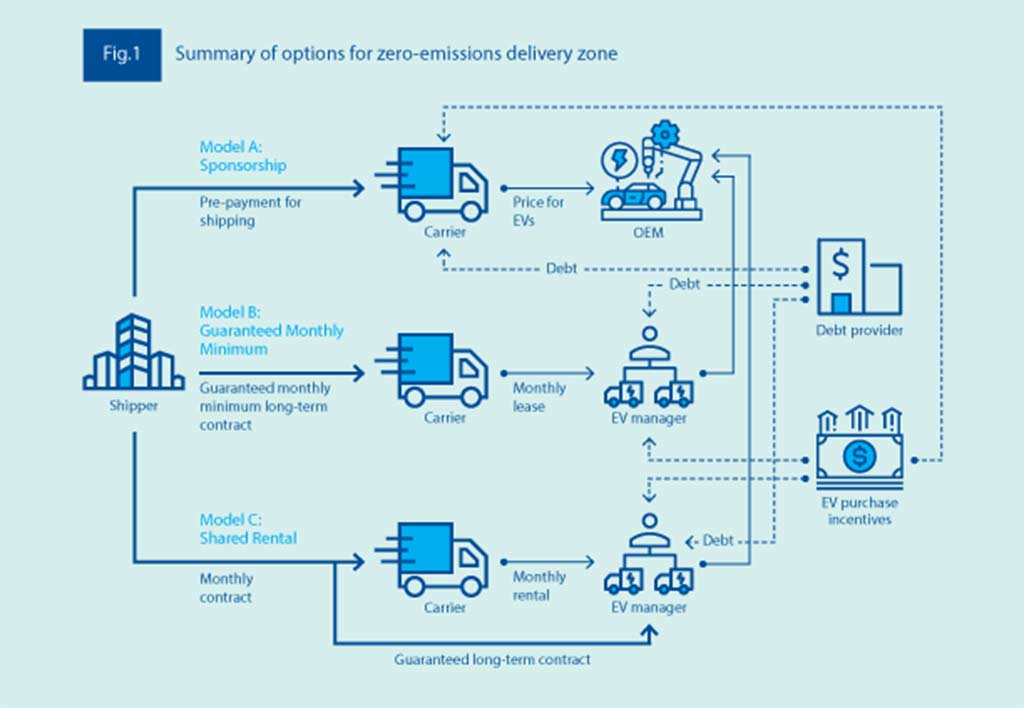 Why is now the time for your company embrace a ZED Zone financing model?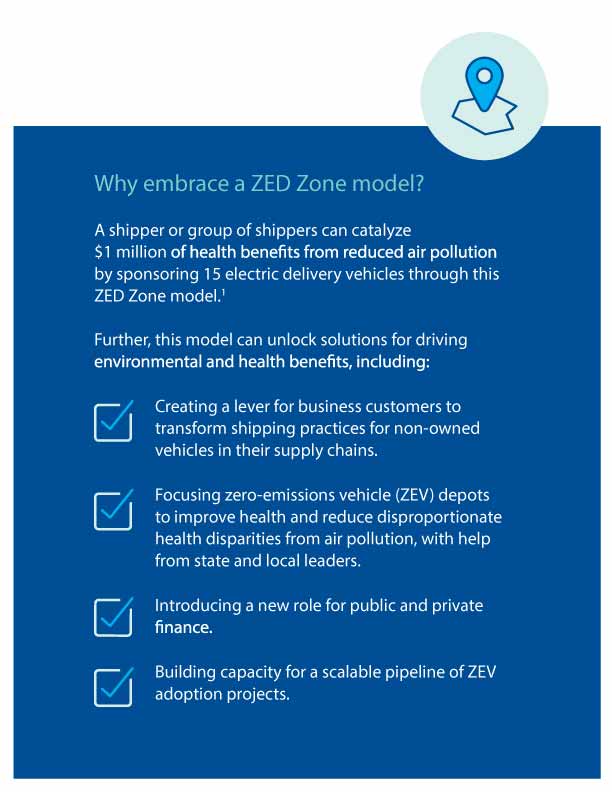 Meet climate commitments. Electrifying transportation is critical as the world works toward meeting net zero by 2050 and creating a more sustainable and equitable future. A ZED Zone financing model enables companies to clean up trucking in operations and supply chain, drive down their transportation footprint and meet climate goals.
Reduce air pollution and disproportionate health burdens. Air pollution can now be traced back to the source, posing a financial and reputational risk for companies. A ZED Zone financing model enables companies to focus and accelerate ZEV deployment in communities that face a disproportionate health burden from air pollution.
Maintain shareholder confidence. The ESG risk from fossil fuel trucks is clear. Through a ZED Zone financing model, companies can show investors that they are taking responsibility for and proactively managing against environmental and social risks, proving to be a favorable investment opportunity.
Enviroshop is maintained by dedicated NetSys Interactive Inc. owners & employees who generously contribute their time to maintenance & editing, web design, custom programming, & website hosting for Enviroshop.