El Pollo Loco, a chain known for chicken and Mexican-inspired dishes, has taken a huge step into the future by offering vegan Chickenless Pollo. The new plant-based protein has made El Pollo Loco the largest chain to offer vegan chicken burritos and tacos.
Chickens are social animals who prefer to spend their days sunbathing and taking care of their young. In the animal agriculture industry, the majority of chickens spend their lives confined to dark, filthy sheds before they're slaughtered.
By choosing the Chickenless Pollo and other vegan options at El Pollo Loco, you can rest assured knowing that your meal doesn't come at the cost of an animal's life.
Here's our complete guide to eating vegan at El Pollo Loco:
Street Tacos
Vegan Chickenless Pollo Taco: As the name suggests, this taco is totally vegan without any modifications. The vegan chicken is simmered in a roasted pepper, tomato, and onion sauce and served in a yellow corn tortilla with lettuce and avocado.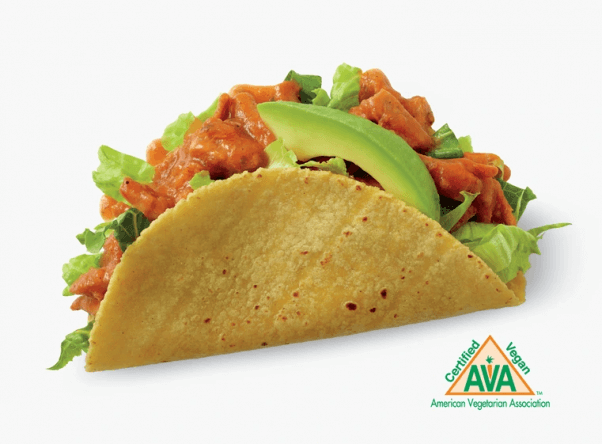 © El Pollo Loco
Burritos
Vegan Chickenless Pollo Burrito: This burrito is vegan without modifications, stuffed with vegan chicken, black beans, avocado, and shredded lettuce.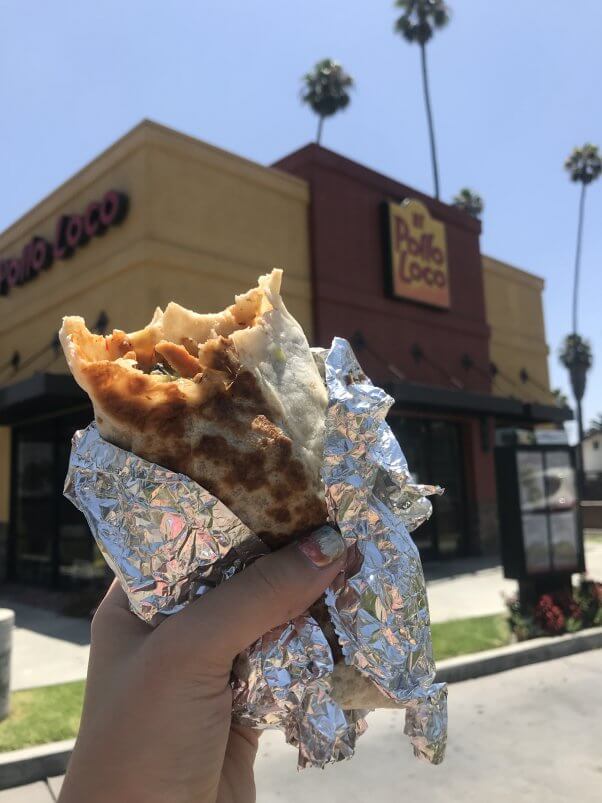 BRC Burrito: This classic rice-and-bean burrito can be made vegan by removing the cheese. Subbing in avocado or guacamole instead of cheese is a super-easy swap if you're making the transition from vegetarian to vegan. Keep mother cows and their calves in mind—in the dairy industry, they're separated almost immediately after the calves are born.
Chipotle Chicken Avocado Burrito: Make this burrito animal-friendly by removing the chicken, cheese, and sour cream. This one already comes with sliced avocado, plus pinto beans, rice, cabbage, and chipotle salsa.
Bowls
Original Pollo Bowl: You can sub avocado for the chicken in this bowl, which is layered with rice, pinto beans, diced onions, fresh cilantro, and pico de gallo. Top it with your favorite salsa (or three).
Grande Avocado Chicken Bowl: As the name suggests, this bowl is a larger version of the original bowl with some added corn and cabbage. Ask for no chicken, sour cream, and cheese for a hearty vegan bowl.
Chicken Black Bean Bowl: For a lighter option, order this bowl, which is layered with rice, black beans, broccoli, avocado, and pico de gallo. Remove the chicken and cheese and add some avocado salsa instead.
Tostada Salads
Classic Tostada Salad: This salad is served in a crispy flour tortilla shell and filled with chopped romaine lettuce, pinto beans, rice, and pico de gallo salsa. Ask for avocado instead of the chicken, and swap in low-fat citrus vinaigrette or avocado salsa instead of the cheese, sour cream, and creamy cilantro dressing.
Starters and Sides
Broccoli
Chips & Guacamole
Pinto and Black Beans
Rice
Salsa Bar
Tapatio Fries
---
Going vegan is the easiest way to make a positive change in the world. It's the best thing that you can do to take a stand for animals, prevent pandemics, and lower your carbon footprint. If you need help making the transition, we're here for you with resources on going vegan, guides that will help you find vegan options at your favorite chains and fast-food restaurants, and even mentors to give you personalized advice.
Connect Me With a Vegan Mentor Today!
The post El Pollo Loco Is the Biggest Chain to Offer Vegan Chicken Burritos appeared first on PETA.
Enviroshop is maintained by dedicated NetSys Interactive Inc. owners & employees who generously contribute their time to maintenance & editing, web design, custom programming, & website hosting for Enviroshop.