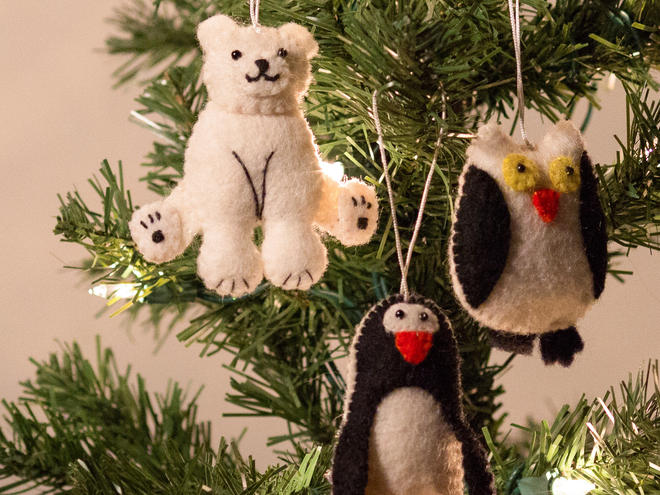 Local communities and indigenous people are crucial stewards of the natural places WWF works to conserve. They depend on forests, fisheries and wildlife for their traditional way of life. Over generations, many have acquired knowledge and learned practices to sustainably use and protect natural resources. By working together, we can help strengthen their role in safeguarding the environment while also improving their livelihoods and health. The handicrafts are a small thank you for your support of WWF and all its programs.
---
Crafted by Nepali artisans in Kathmandu, these vibrantly colored ornaments are fashioned using the ancient technique of felting to create festive animal shapes. This set includes an elephant, a tiger, and a narwhal, ranging from 3″ to 3 ½" tall.
---
Jewelry that is fashionable… and sustainable! This stylish necklace is crafted from wild rubber tapped in the Amazonian rain forest. Promoting positive social and environmental impact through jewelry design, projects support small producers and artisans, empower local communities and help to preserve the forest. Through the Amazon Region Protected Areas, an initiative of the government of Brazil and supported by WWF since the beginning, nearly150 million acres of rain forest are now protected—the largest tropical rain forest conservation project in history.
---
These bracelets are hand woven from natural materials collected in the Thirty Hills forest of Sumatra, Indonesia, by indigenous Talang Mamak craftspeople. They are crafted from sustainably harvested rattan and bamboo.Through a conservation concession —a lease of the land—covering 100,000 acres of rain forest, WWF and its partners are joining forces with local communities in an innovative initiative to actively manage Thirty Hills.
---
This handcrafted basket from Uganda is rooted in tradition. It is made using natural dyes, woven into modern-day designs. It is an ethically sourced Authentic Fair Trade product. Basket measures 12" deep and 3" high. No two designs are alike.
This holiday season, make a gift in support of our global conservation efforts and choose from these items—and over 200 more—to share with your loved ones.
Enviroshop is maintained by dedicated NetSys Interactive Inc. owners & employees who generously contribute their time to maintenance & editing, web design, custom programming, & website hosting for Enviroshop.