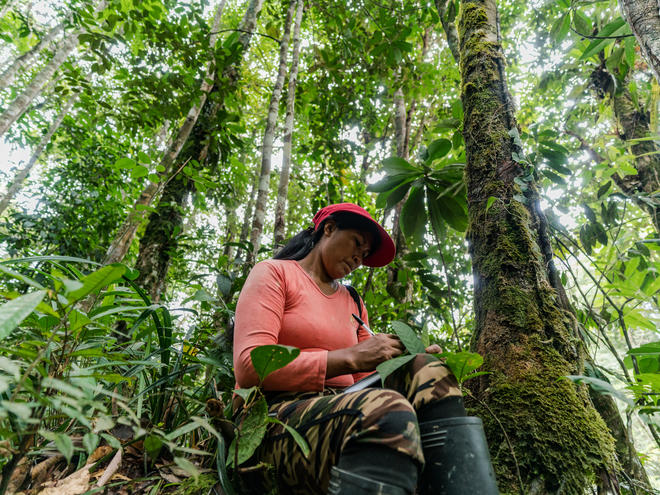 A typical day might find Chela Umire preparing a meal for her family in her open-air kitchen, working on one of the traditional feather headdresses she designs and sells in a small shop at her home, or tending a family chagra—a traditional agricultural plot of subsistence crops within the forest. Umire lives in La Chorrera, a town of roughly 300 people in the Predio Putumayo Indigenous Reserve in the heart of the Colombian Amazon. Agriculture, hunting, and fishing are the way of life here.
But every so often, Umire heads into the forest for another reason: to fulfill her role as a member of an Ecosystem Services Assessment (ESA) Technical Team—a group of local Indigenous people who are mapping their traditional territory and cataloging the wealth of resources the forest provides.
In partnership with local Indigenous organization Azicatch, WWF is supporting their work, which combines traditional knowledge with modern conservation practice. The aim is to strengthen Indigenous decision-making and governance and create an environmental management plan for the territory.
"The jungle is very important to us because we depend on it," says Umire. "From it, we get the animals and our food is guaranteed, and so we can live from it and get useful things for our children."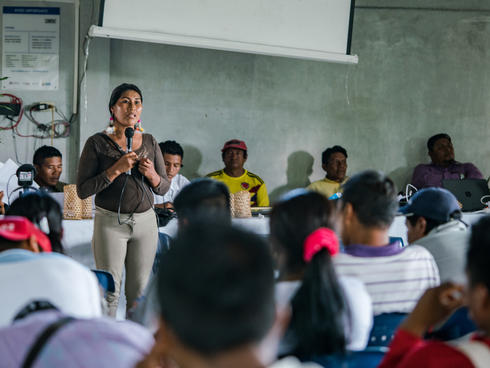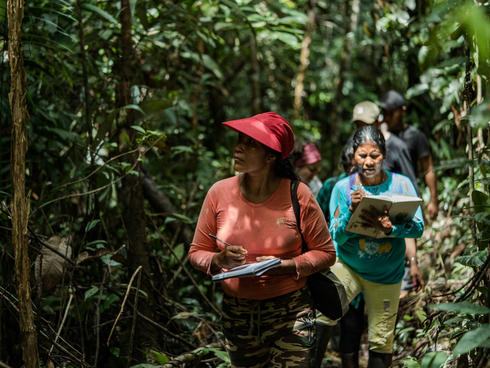 To survey the forest, Azicatch assembled four teams representing the territory's Bora, Muinane, Ocaina, and Uitoto peoples; each team includes at least one elder or wise person and one woman. Colombian environmental foundation Puerto Rastrojo provides technical training.
In the forests, the teams catalog what they call "spaces of use"—those places where community members cultivate or gather what they need, such as the chagras or the river.
"Even though we live in the jungle, with so many riches, we don't always value them," says Umire, who represents the Muinane people.
"Indigenous communities are good at conservation," says Pia Escobar Gutierrez, a WWF-Colombia governance official. "The fact that they live in their territory and use it in the traditional ways is what has kept these places conserved during so many years."

The almost 5 million-acre territory surrounding La Chorrera, she says, is more than 90% intact.
Still, there are threats to the forest, "sometimes from over-chopping of wood," says Umire. "We chop it down and end up without wood and go far away to get wood to make the houses." There are other threats as well, says Escobar Gutiérrez, including outside interests in the territory, "people moving in from outside, [and] young people losing the traditional knowledge."
Preserving traditional knowledge is at the heart of the project.
"My dream for the whole of the Amazon," says Umire, "is that we all benefit from a healthy environment, that the river follows its natural course, that the forests are kept, and we preserve it in the same way that we have been doing, that our grandparents did, the knowledge they gave us, the way we look after the environment, without having to destroy it."
She is proud that her work on the Ecosystem Services Assessment team is furthering those aims.
"It is really important that we get to know the whole area of the Muinane territory," she says, "to be able to preserve it and be able to say, 'We are here. This is what we have. We haven't destroyed it, and we have looked after it.'"
Enviroshop is maintained by dedicated NetSys Interactive Inc. owners & employees who generously contribute their time to maintenance & editing, web design, custom programming, & website hosting for Enviroshop.