PETA will be happy when the U.S. "meat shortage" is solved. But not by the reopening of slaughterhouses—by millions of individual decisions to ditch meat altogether. After all, eating animals and slaughtering them in filthy "wet markets" and on factory farms gave us this pandemic and lots of other viruses, including avian flu, swine flu, MERS, and SARS.
So, what are you waiting for—a giant sign that you should go vegan? Well, in that case …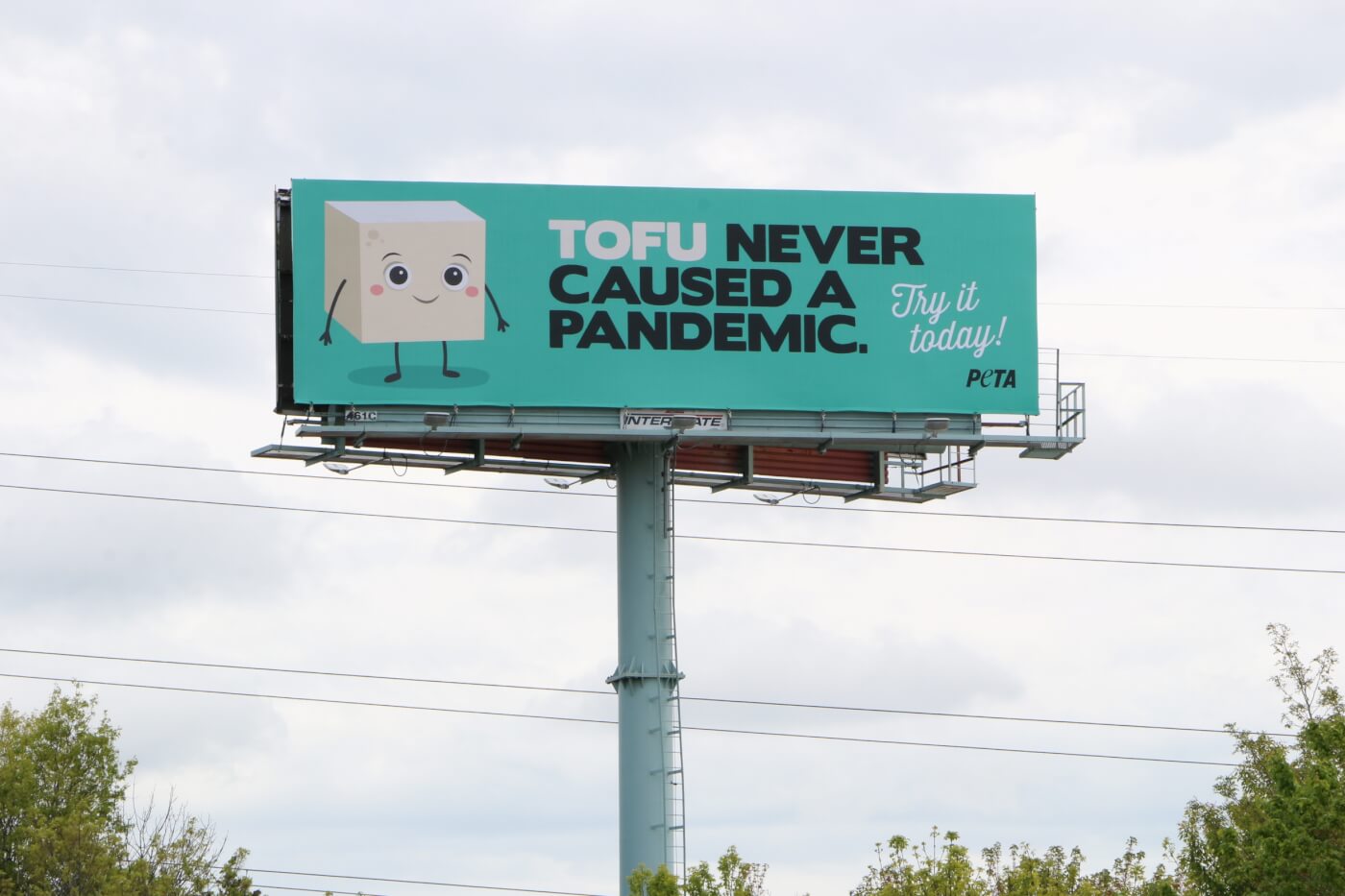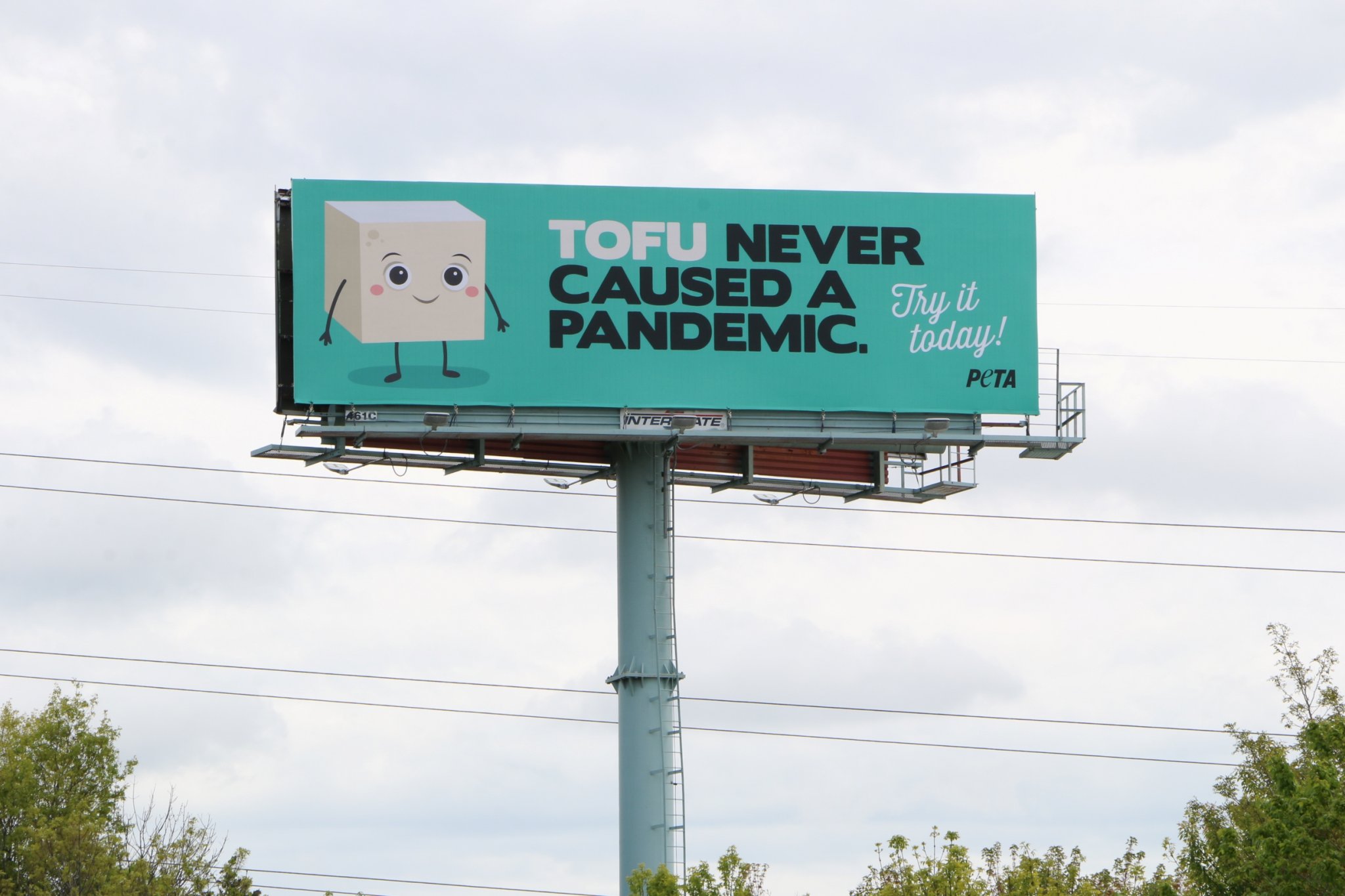 Across the nation—near grocery stores, along interstates, and outside medical centers—PETA has placed billboards reading, "Tofu Never Caused a Pandemic. Try It Today!"
We launched this nationwide campaign to remind people that the meat industry breeds killer diseases and that everyone can help prevent the next viral outbreak by living vegan now.
Not only is tofu cheaper than meat, it's also more versatile and jam-packed with protein. Tofu contains zero cholesterol and can lower your risk of suffering from heart disease, diabetes, cancer, and numerous other life-threatening health issues. Plus, it won't cause a pandemic that brings society to its knees.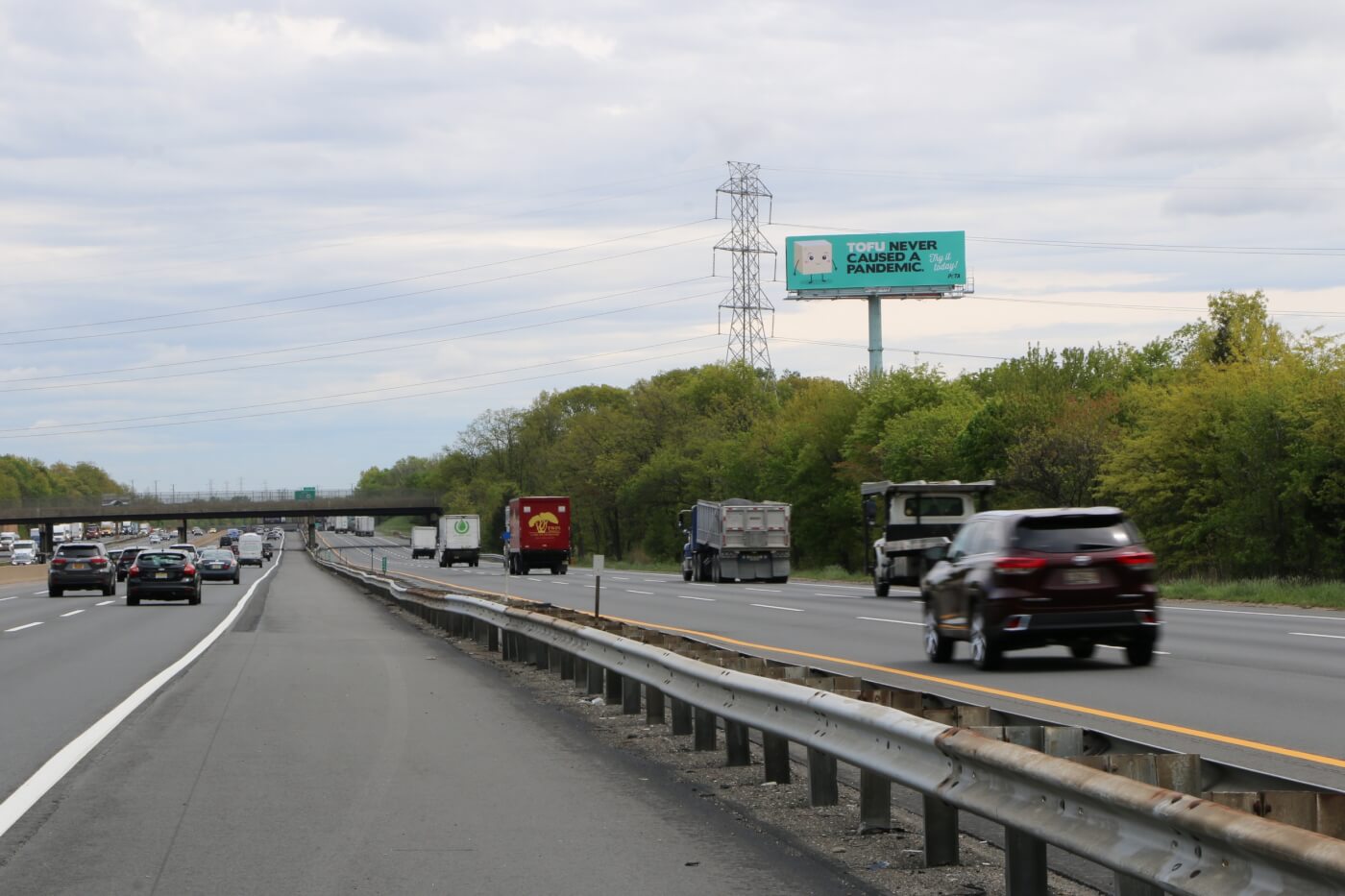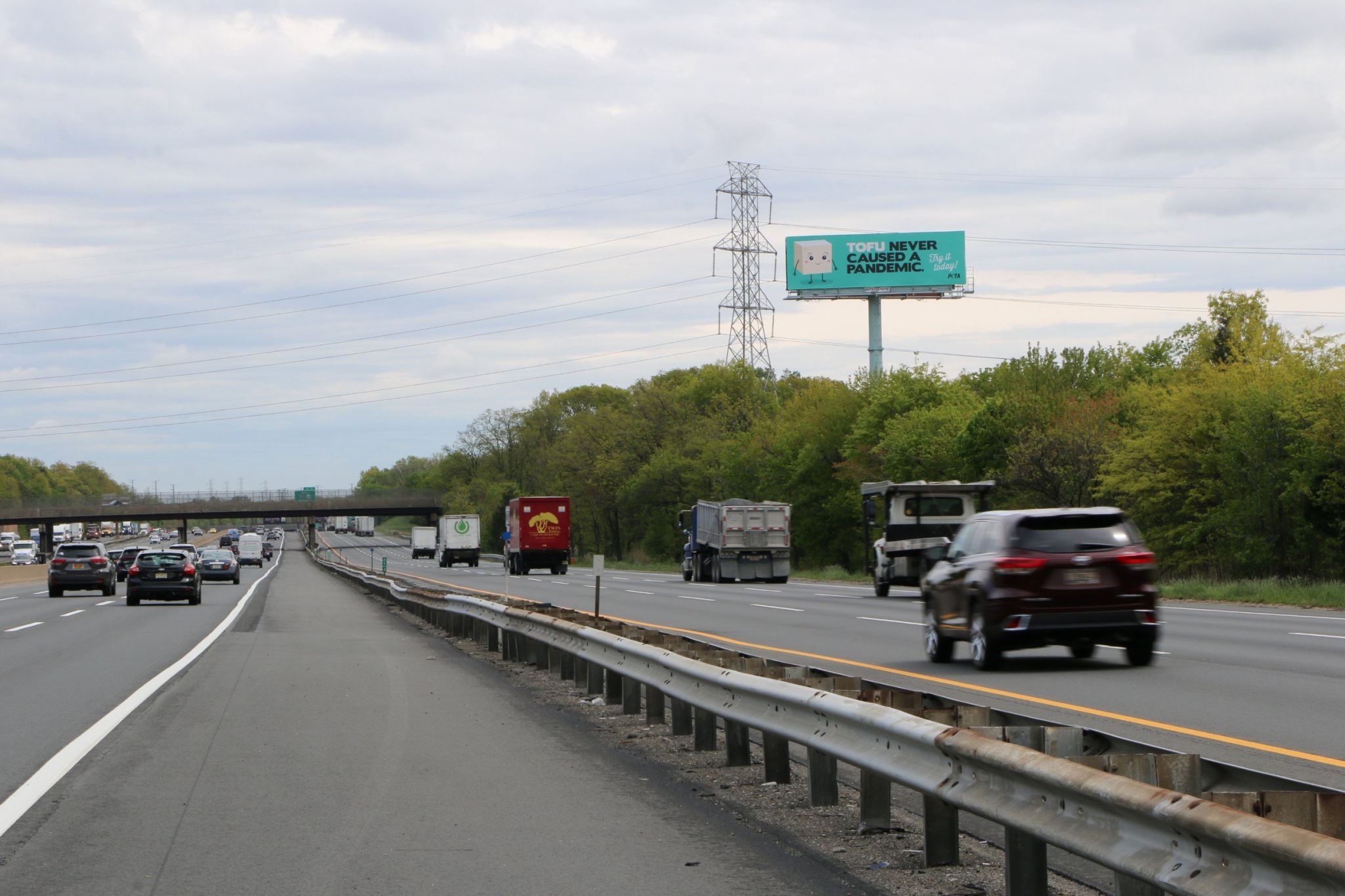 One of PETA's billboards is located near Black Hawk County, Iowa. In this area, about 90% of the residents who recently tested positive for COVID-19 were connected to a Tyson slaughterhouse.
We placed another billboard in Edison, New Jersey. The Garden State has had more than 140,000 cases of COVID-19—second only to New York in number of cases—and over 10,000 residents have died of it.
In Nebraska, where our ad has been placed across from a medical center, over 1,000 slaughterhouse workers have tested positive for COVID-19, with at least one death.
Our fourth billboard, in Bakersfield, California, also reminds people that because the deadly pandemic is linked to eating animals, the national "meat shortage" is cause for relief, not complaint.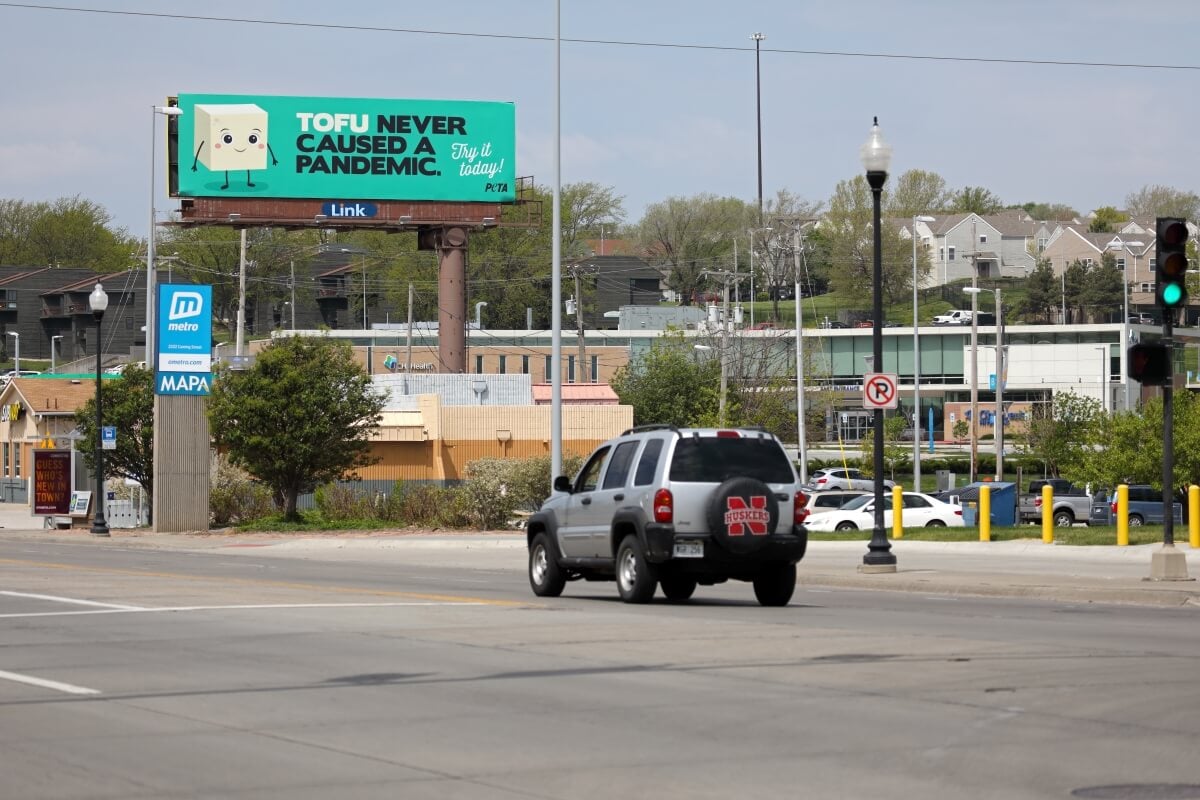 Tofu is delicious and easy to prepare. If you'd like to give it a try, PETA offers hundreds of tasty, simple tofu-based recipes, including General Tso's Tofu, Tofu-Spinach Lasagna, and Buffalo Tofu-Scramble Breakfast Tacos.
Eat as if everyone's life depends on it, because it does.
No animal chooses the butcher's knife over life. Pigs would rather cuddle with their babies than be slaughtered. Cows would rather raise their calves and spend time with their friends than be killed via throat-slitting. Chickens would rather create their own social structures than be crammed together with hundreds of other suffering birds.
Animals, with all their personality and emotions, deserve our respect. Human speciesism deprives them of their dignity, and we've seen how this can lead to devastating consequences.
Deadly outbreaks of mad cow disease, swine flu, avian flu, SARS, HIV, hoof-and-mouth disease, and other zoonotic diseases have all stemmed from capturing or farming animals. The novel coronavirus may have originated in a Chinese live-animal market—but when it comes to spawning dangerous pathogens, animal markets and slaughterhouses are one and the same.
Eating animals is absolutely unnecessary—barbaric, in fact. Let us help you go vegan today.
Order a free vegan starter kit. Sign up for a free vegan mentor. We have all the resources necessary to support folks who want to ditch meat, eggs, and dairy. You can make a real difference and save nearly 200 animals a year—simply by not eating them!
Order Your FREE Vegan Starter Kit!
The post 'Tofu Never Caused a Pandemic' Ad Offers Reality Check Amid Pandemic appeared first on PETA.
Enviroshop is maintained by dedicated NetSys Interactive Inc. owners & employees who generously contribute their time to maintenance & editing, web design, custom programming, & website hosting for Enviroshop.