French fashion label Hermès is planning to build Australia's largest crocodile factory farm, which would imprison up to 50,000 crocodiles at a time—so that their skin can be turned into expensive bags, belts, and other accessories.
Every PETA exposé of the exotic-skins industry has shown that no matter the source—or the "standards" touted by brands—products made from animal skins involve forcing highly intelligent, sensitive animals to endure squalid imprisonment and a violent death.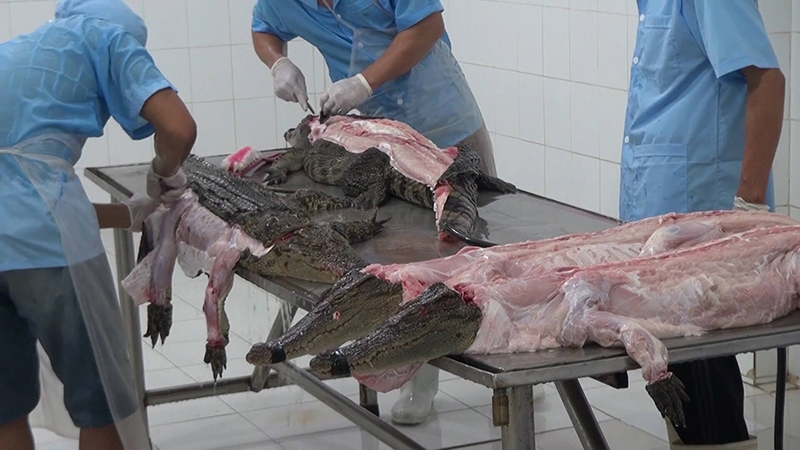 A PETA eyewitness investigation revealed that alligators on a farm in Texas that supplied an Hermès-owned tannery were kept in fetid water in dank, dark sheds and denied sunshine, fresh air, clean water, and basic medical care. A worker cut into the necks of more than 500 conscious alligators as they struggled to escape. Some were flailing and kicking for minutes after workers tried to kill them. https://www.youtube.com/embed/0xLIlituBCs?showinfo=0
On a farm in Zimbabwe, tens of thousands of Nile crocodiles were confined to concrete pits from birth to slaughter. Many skins from their stomachs are sent to an Hermès-owned tannery, where they end up becoming items such as handbags that can cost $50,000 or more. It takes two or three crocodiles to make just one handbag.
The COVID-19 crisis has shown us that cramming sick and stressed animals together in unsanitary conditions creates the perfect breeding grounds for dangerous zoonotic disease, which can jump from other species to humans. Conservation experts are warning that the exotic-skins industry fuels the risk of future epidemics—another reason for Hermès to stop selling them.
Please speak out for crocodiles, curious and sensitive animals who just want to be left alone to swim free, build nests, and protect their young. Denying them and other animals their freedom supports speciesism, and we need your help to end it. Urge Hermès to stop selling exotic skins!
The post Urge Hermès to Halt Plans to Imprison Up to 50,000 Crocodiles on New Farm! appeared first on PETA.
Enviroshop is maintained by dedicated NetSys Interactive Inc. owners & employees who generously contribute their time to maintenance & editing, web design, custom programming, & website hosting for Enviroshop.