When you wander through the aisles at Aldi, it quickly becomes clear that the grocery chain is one of the best places to shop for vegan staples. That's why PETA has recognized it with our Top Grocer Award! Aldi's bountiful vegan options range from veggie burgers and hot dogs to meatless meatballs, vegetable pot stickers, eggplant ravioli, and much more. Aldi recognizes that shoppers today are looking for products that match their personal values and needs, which is why it's stocking shelves with plant-based foods galore. Selecting vegan foods is the best choice you can make for animals, your personal health, and the planet.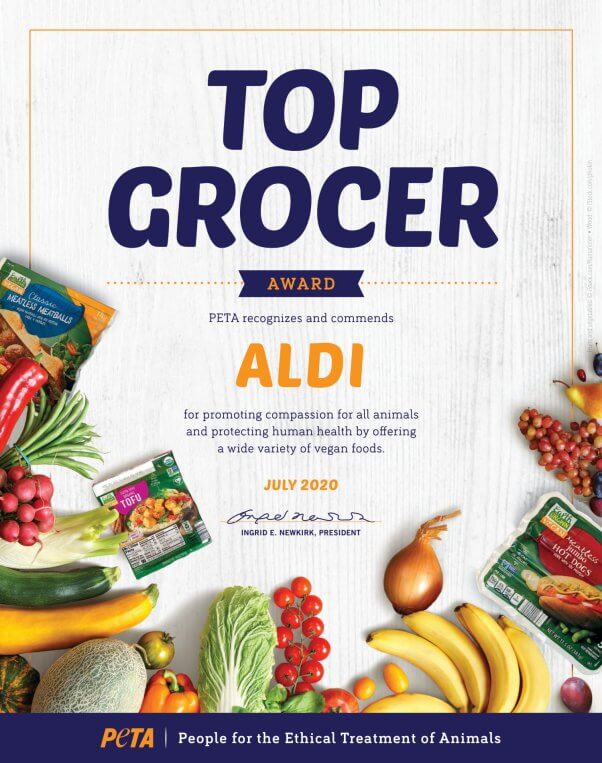 We'll keep you updated on all of Aldi's new and exciting vegan offerings as they debut.
Earth Grown Vegan Non-Dairy Frozen Dessert
Three types of nondairy ice cream options are available at Aldi: oat milk, coconut milk, and almond milk. Flavors include Mint Chocolate Chip, Chocolate Peanut Butter, Raspberry Cheesecake, Chocolate, Cold Brew, and Vanilla Cookie Chip. That's a lot of deliciousness without animal suffering. Cows used in the dairy industry are separated from their babies. A mother cow's maternal instinct is so strong that she'll actually fight to keep her child safe with her. Luckily, all these ice cream choices are dairy-free.
Earth Grown Vegan Ravioli
Aldi has launched two new vegan ravioli flavors: Spinach and Eggplant with Yellow Pepper.
This is not a drill: The super-popular Beyond Burger has landed in Aldi stores.
Good Foods' Plant Based Queso Style Dip
Burman's Eggless Mayo-Style Spread & Dressing
Earth Grown Chickenless Patties and Tenders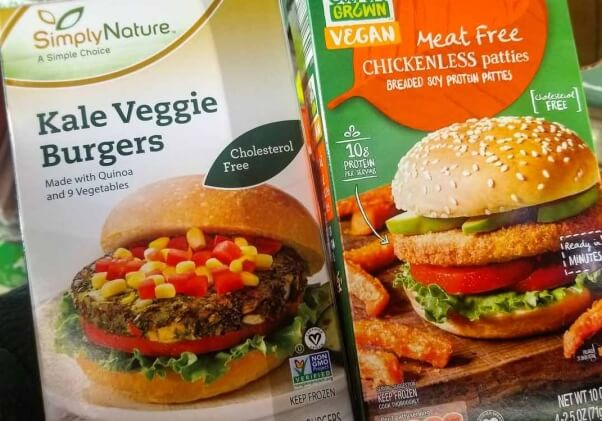 © Instagram.com/Jaycelab
Earth Grown Classic Meatless Meatballs
Earth Grown Cream Cheese Style Spread
Earth Grown Extra Firm Organic and Baked Tofu
Earth Grown Meatless Jumbo Hot Dogs
Aldi also carries Earth Grown Meatless Italian Sausages.
Earth Grown Vegan Ranch Dressing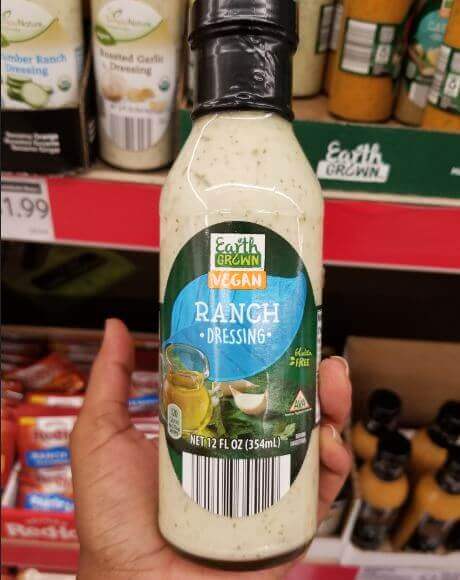 For a more flavorful kick, check out Earth Grown's Vegan Harissa Ranch Dressing.
Earth Grown Vegetable Potstickers with Dipping Sauce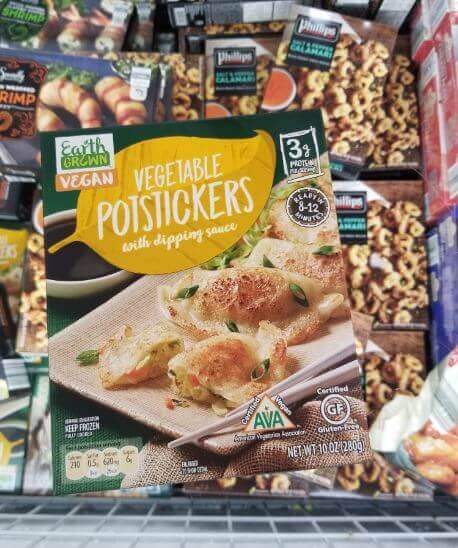 Earth Grown Veggie Burgers and Soy Protein Burgers in select varieties
Aldi carries a few varieties of vegan burgers—but be sure to check the packaging. Some come with dairy cheese, so be sure to select a cheese-less option. Most of Earth Grown's vegan products are clearly labeled as such in the upper corner of the package, and they'll also have a "certified vegan" stamp on the box.
But if you're really craving a vegan cheeseburger, you're in luck. Aldi also carries Earth Grown Vegan Mozzarella Style Shreds. Just buy some and toss them on your burger:

In addition to the Peanut Butter Cookie variety, the brand's Apple Pie Pure & Simple Bars are also vegan.
Friendly Farms Almondmilk Non-Dairy Creamer (Vanilla and Caramel varieties)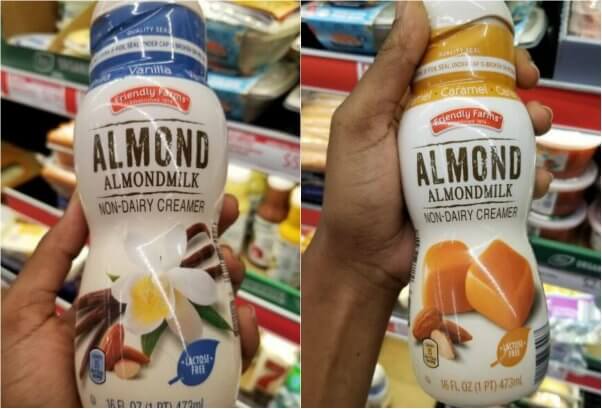 Friendly Farms Almondmilk (Chocolate)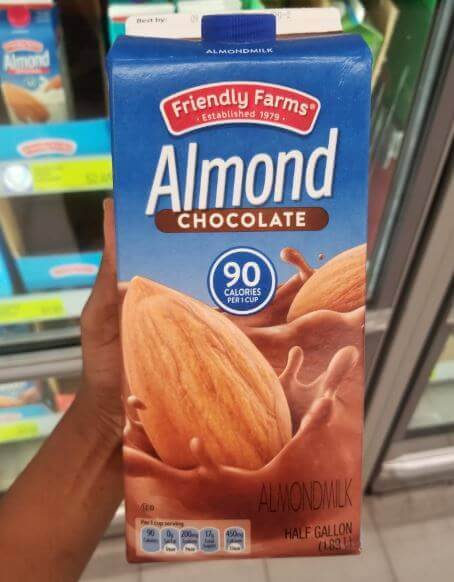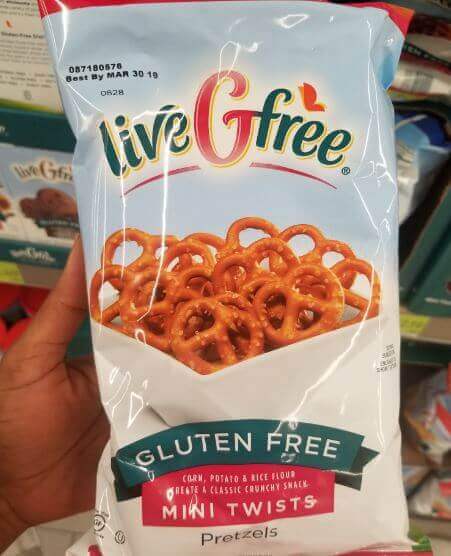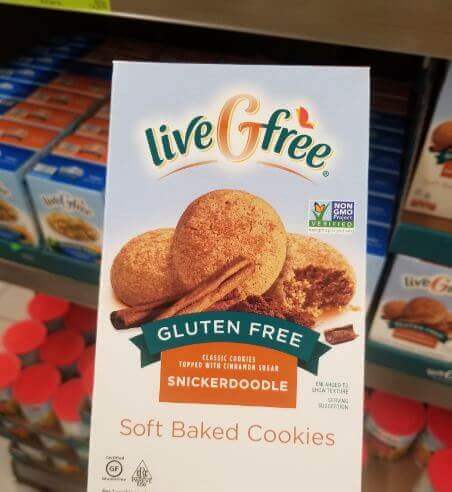 If you're looking for more gluten-free vegan options at Aldi, check out some of these other products in the liveGfree line. Just be sure to look at the package to check that the ingredients are vegan.
Season's Choice Veggie Eggplant Fries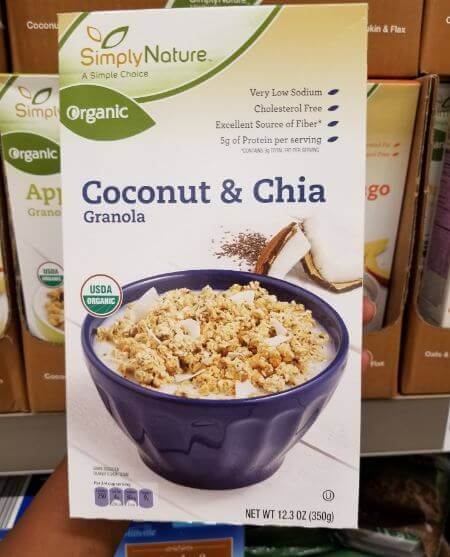 SimplyNature Organic Soymilk (Original and Vanilla)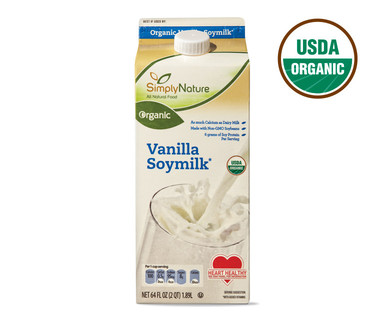 © ALDI US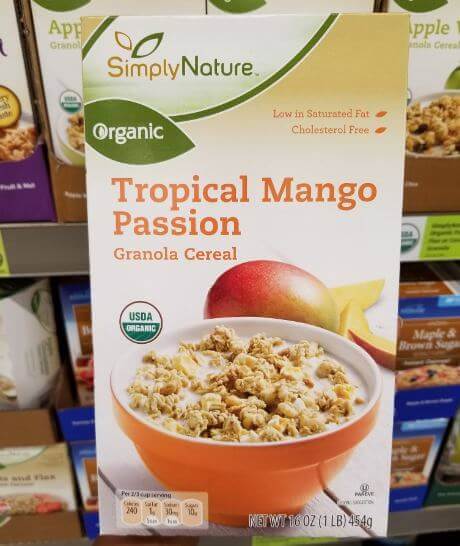 SimplyNature also carries a line of packaged organic greens (including Baby Arugula, Baby Spinach, Mixed Greens, Spring Mix, and Chopped Kale) and frozen organic fruits (Strawberries and Blueberries) that can serve as building blocks for your meals. Seen in the picture below, SimplyNature Hash Browns (Root Vegetable and Mixed Potato varieties) are also vegan.
---
As more and more people go vegan, chains like Aldi are evolving to meet the demand. The availability of the products listed here may vary from location to location, but note that—like all grocery stores—Aldi also carries plenty of "accidentally vegan" products, so this guide is by no means exhaustive. Always take a peek at ingredient lists, because a product may be vegan even if the packaging doesn't explicitly state that.
Want to see just how much vegan food you can score on a trip to Aldi? Take a look at these hauls:
Don't live near an Aldi? Fear not! We also have a general guide to vegan grocery shopping to help you find products in other popular chains across the U.S.:
---
Make Every Shopping Trip All-Vegan—You Can Do It!
Going vegan is a great way to help animals, the environment, and yourself, all at once. You'll reduce animals' suffering, eat in a sustainable way, and improve your personal health.
This shopping guide is just one of the many free tools in PETA's Living section that can help you follow a healthier, more compassionate lifestyle. You can go vegan, and we can help. What are you waiting for?
The post Aldi Awarded 'Top Grocer' for Consumer-Conscious Vegan Choices appeared first on PETA.
Enviroshop is maintained by dedicated NetSys Interactive Inc. owners & employees who generously contribute their time to maintenance & editing, web design, custom programming, & website hosting for Enviroshop.